Cyberfraud Warning
27 July 2023: Aramex Australia takes cybersecurity seriously and are aware that a scam is currently circulating on Facebook, with the scammer targeting those selling items on Facebook Marketplace and then demanding payment for charges of the collection of the item by the "Aramex Group" or via the "Aramex Express" service. The scam takes place when an email or SMS is sent to the seller and requests payment for the item to be collected.
20 April 2023: We are aware that fraudulent third parties are impersonating Aramex Australia. These fraudulent third parties are stating that our bank account details have changed and are requesting payment to their own fraudulent bank account. Aramex Australia has not changed its bank account details. We will never send you an email to advise that our bank account details have changed and request urgent payment. We are aware of scam emails circulating that impersonate Aramex Australia by using email addresses containing words similar to Aramex such as Ararnex or Aranex. We are also aware that at least one customer has paid money owed to us into these fraudulent bank accounts. If you are ever unsure whether an email, message or phone call is legitimately from Aramex Australia, please speak directly with your Aramex Australia contact. The Australian Cyber Security Centre recommends that organisations: contact the bank immediately if you think you have sent money to a scammer; and have protective businesses processes in place for workers to verify and validate any changes in payment details or requests for payment.
Stay safe from parcel delivery scams
Unfortunately, scammers use all kinds of tricks to try to gain access to your money, your personal information, your computer or phone. They might fake details of legitimate companies like Aramex to make you think they're real. Some scams are very convincing, using web addresses and contact details that are very similar to Aramex's authorised details.
People who shop online are regularly targeted by these scammers, especially during busy holiday seasons like Christmas when more people are shopping and may be expecting deliveries.
Here are some important tips to help you identify parcel delivery scams and keep your accounts and information safe.
Aramex will never contact you to ask for personal or financial info, including credit card details and passwords.
Do not click on any links in emails or SMS that request payment from Aramex.
Never give your credit card details over the phone from anyone claiming to be from Aramex.
Do not click on an email link to print off a label to redeem your package.
How to spot a scam
Email scams
You might receive an email that claims to be from Aramex that says you have a parcel to collect. It might have our logo and address details on it and look professional. If it's really from Aramex, the email will be sent from an address ending in @aramex.com, @aramex.com.au or @parcelconnect.com.au. We don't send emails to customers from Gmail, Yahoo or other free email accounts.
The email might ask you to click on a link to pay a holding fee for your parcel before you can collect it, or they might ask you to provide credit card or bank details, or to transfer money via an international wire service.
DO NOT click on any links in the email, and DO NOT provide any personal or financial information. Aramex will never ask you to click on a link to a website other than our own, starting with aramex.com.au.
If you have questions regarding the status of a shipment or an invoice, please contact us.
If you think you've fallen victim to a scam, contact us immediately at [email protected] .
You can also check online for current scams by visiting the Government's Scamwatch website.
Phone scams
Phone scammers might call and pretend to be someone from Aramex, saying that they weren't able to deliver your parcel but they will redeliver it if you pay a fee. They might ask you to pay by credit card or international wire transfer. They might also ask you for your bank details or other personal information to confirm your identity. 
DO NOT give them any information. The best thing to do is hang up, and if you are unsure, call Aramex directly to check. It is essential that you DO NOT use any contact information the caller may have given you. You could also visit Scamwatch to find out if the scam is listed there.
SMS scams
Be aware of SMS scams, which can be very convincing. Scammers might send a message to your phone that says your package is on hold or that a delivery attempt was unsuccessful. You will then be directed to click on a link that might look very similar to aramex.com.au but is not legitimate. Please note, all communication from us will only ever redirect you to an "aramex.com.au" URL.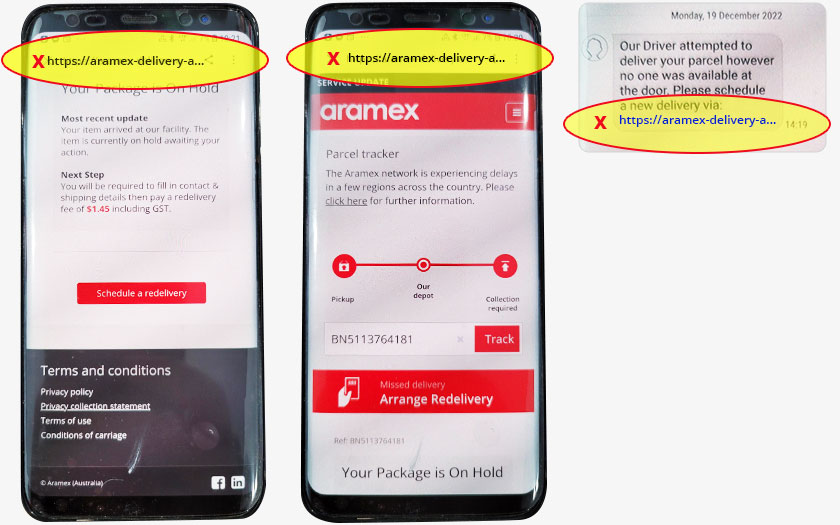 Protect yourself – important things to remember
Aramex will never ask you to pay when collecting a parcel from a depot or our Parcel Connect agents (there may be a re-delivery fee but this is arranged at the customer

'

s request).

When Aramex is shipping your goods you

'll always be given a tracking number that can be tracked via our website

https://www.aramex.com.au/tools/track.

Not all senders let their customers know who will be shipping their goods. If you are expecting a parcel and you don

't know who the carrier is, you can contact the sender to check with them.

If you think you may have given money to a scammer, contact your financial institution immediately.

If you think you

've fallen victim to a scam, contact us immediately at

[email protected]

. We thoroughly investigate every report of suspected fraud, but generally, will not respond to personal inquiries.